Funeral director, Nick Wardle, 28, of Anstey & District Funeral Services in Leicester, along with Joe Dawson have been crowned Bowls England Men's Pairs Champions at the Aviva National Championships, held in Royal Leamington Spa in August.
Representing Kingscroft Bowls Club, in Leicestershire and playing on behalf of the Leicestershire County Team, which has been sponsored by Anstey & District Funeral Services since 2019, the pairs final was hailed as 'an all-time classic' by Bowls England, with the result in doubt until the last wood after the tensest of finishes.
Playing against Essex County the result ended up 15-16. As a result of this win, Nick and Joe will represent England in the British Isle Pairs Competition against the other Home Nations in early 2024.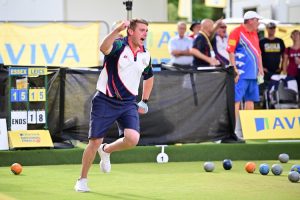 It was a busy fortnight for Nick who also made it through to round one of the knockout stages of the Men's Singles Championship, and along with Joe made up half of the team representing Leicestershire in the Men's Fours Championship that came a close second in the final, also held at Royal Leamington Spa the same the week.
To make it through to a knockout stage and two finals of these competitions is a fantastic achievement.
Nick's colleague, Arran Brudenell, went along to watch Nick compete in the Singles Championship and along with the rest of the staff watched the live stream of the finals for the pairs and fours championships on the large screen in the office.
Arran said "It is such a wonderful achievement for Nick and Joe. To have been able to watch Nick play competitively, as well as sponsor the county team, has been a great privilege over the years and we're all really proud of his accomplishments."
Nick has been bowling since he was six, having his first roll up with his grandad, and has been bowling competitively since he was 15. Nick joined Anstey & District Funeral Services at 17 and has completed his IFD College training and exams in recent years.