Eimer Duffy asks: why have a strategy?
The funeral home's social media strategy should serve as an effective platform. Focused on connecting with and engaging bereaved families and their communities, it should promote the compassionate care, personalisation and services offered by funeral directors, establishing trust and credibility.
How?
By being open, honest, respectful and thoughtful in your social media posts.
Use a combination of informational content such as blog articles, memorial service stories and funeral advice. Helpful resources using visual content like photos or videos will help to create an inviting online atmosphere. And featuring stories from families about their experiences with the funeral home can establish a personal connection.
Interacting with followers is also essential to developing relationships online. By responding to enquiries, asking questions, and engaging in conversation, users will feel heard and appreciated.
How to create a social media strategy for your funeral home?
Along with researching what works best, it's important to create goals for your company's social media channels. Consider the following questions when crafting your goals:
1 What do you want to achieve with your funeral home's presence on social media?
2 Who is your target audience and how will you reach them?
3 How will you measure success?
Once you have established your company's social media goals, it's time to develop your social media strategy. Some funeral directors find that the following steps create a strong foundation for their social media strategy:
1 Identify which channels are best suited to reach your target audience and make sure they align with your goals.
2 Develop a content plan that includes topics, visuals and captivating calls-to-action.
3 Set a realistic schedule of when you will post content on each channel.
4 Track performance and adjust your strategy as needed to reach your desired outcomes.
By following these steps, you can create an effective social media strategy for your company that helps you better connect with your communities. With a thoughtful strategy in place, you can use social media to provide support and resources for those who need it most.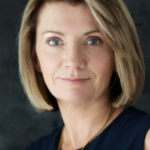 LET'S TALK
For more tips on how to create a successful social media strategy for your funeral home, let's have a chat. I'm an International Supplier Member of the NAFD and you can find out more at www.fitsocialmedia.ie.